0
The Experience
Meet your new must-have shower mitt for smooth, rejuvenated skin. Exfoliation is now easier than ever with this two-in-one exfoliating body glove and loofah. Gently buff away dry skin and unclog pores, cleansing away toxins and impurities to reveal skin's natural glow.
The unique fabric allows for the glove to be soft yet durable for a thorough cleanse. Stimulate blood circulation to leave skin looking and feeling fresh, clean, and healthy. Plus, once the dead skin is gone, your skincare products and lotions will be absorbed even better.  Don't let dull, dry, bumpy, or flaky skin keep you from feeling your best!
What's Inside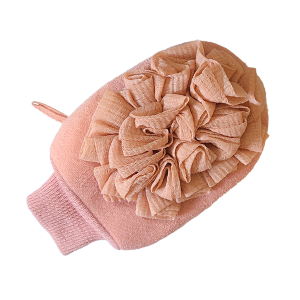 ONE 2-IN-1 EXFOLIATING GLOVE + LOOFAH
Shipping & Returns
VOESH.com orders are typically processed within 2-3 business days, Monday-Friday (excluding weekends and holidays). Orders placed after 1pm EST will be processed the following business day. You'll get a shipment notification email with a tracking number as soon as your package ships. We ship with UPS and USPS and U.S. orders take about 3-5 business days to arrive after shipping.
We want you to love our products as much as we do. However, if you are not totally satisfied with your purchase for any reason, please send us an email to cs@voesh.com within 30 days of your purchase and we will be happy to assist you with an exchange or return.
How to Use
While you're in the shower, wet the glove in lukewarm water. Apply our Sugar Scrub + Bubble Wash and gently massage the skin using long and mild strokes. Rinse with water and hang to dry when done.
DISCOVER THE VOESH DIFFERENCE
Since 2012, it has been our mission to deliver clean, hygienic, and luxurious spa treatments to all with 100% vegan, sustainably sourced ingredients and convenient, pre-packaged products. Experience VOESH at home, in the salon, or anywhere in between!
Cart Empty
Your Cart is empty