0
The Experience
Treat your feet to some well-deserved pampering with our Collagen Socks and Peeling Socks duo. Our Collagen Socks are infused with argan oil and shea butter to provide intense hydration for dry skin. Plus, they're the perfect addition to any pedicure. Simply tear off the tips along the perforated edges for an all-in-one pedicure treatment.
Break down dead skin and reveal soft, smooth skin underneath with our Peeling Socks in as little as 7 days! Natural extracts gently penetrate rough, hardened calluses to naturally peel off and soothe at the same time. These single-use foot masks are made to give your feet a salon treatment at home, no scrubbing required.
Perfect For:
Intensive Foot Care

Pedicure Add-on Treatments

Netflix & Chill
What's Inside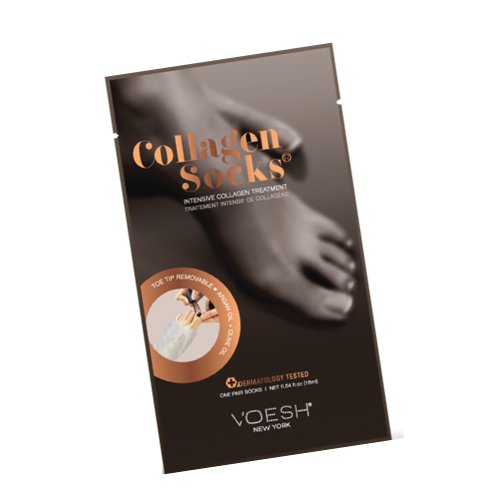 One Pair of Collagen Socks
Made with Argan Oil, Collagen-Rich Emulsion, and Natural Extracts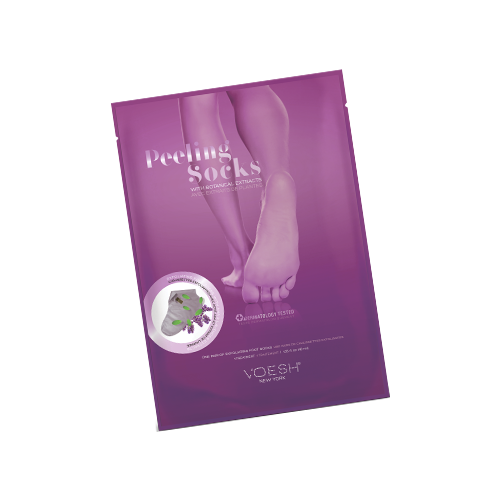 One Pair of Peeling Socks
Made with SUGARCANE DERIVED ACIDS (AHA/BHA), Lavender & Herb Extracts
Shipping & Returns
VOESH.com orders are typically processed within 2-3 business days, Monday-Friday (excluding weekends and holidays). Orders placed after 1pm EST will be processed the following business day. You'll get a shipment notification email with a tracking number as soon as your package ships. We ship with UPS and USPS and U.S. orders take about 3-5 business days to arrive after shipping.
We want you to love our products as much as we do. However, if you are not totally satisfied with your purchase for any reason, please send us an email to cs@voesh.com within 30 days of your purchase and we will be happy to assist you with an exchange or return.
DISCOVER THE VOESH DIFFERENCE
Since 2012, it has been our mission to deliver clean, hygienic, and luxurious spa treatments to all with 100% vegan, sustainably sourced ingredients and convenient, pre-packaged products. Experience VOESH at home, in the salon, or anywhere in between!
Cart Empty
Your Cart is empty